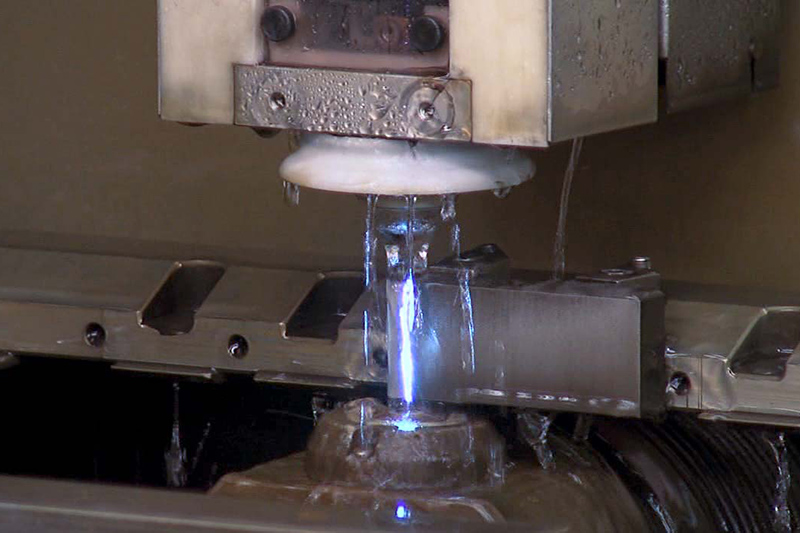 Olympian Tool delivers precision wire EDM machining capabilities in conjunction with our complete range of CNC machining services. Our streamlined metalworking and fabrication facility is outfitted with all the state-of-the-art manufacturing equipment required to meet your tooling production needs with the quality and precision your business deserves.
Versatile Wire EDM Capabilities for Advanced Prototype and Production Machining
2 Charmilles Robofil 300 Wire EDM – Maximum workpiece 33.5 x 19.7 x 15.25 in Z
1 Charmilles 240 Submerged Wire EDM – Maximum workpiece 33.5 x 19.7 x 12
1 Charmilles Cut 30 Submerged Wire EDM – Maximum workpiece 39.5 x 21 x 15
1 Charmilles Cut 20 Submerged Wire EDM – Maximum workpiece 13.7 x 9.8 x 9.8
The Advantages of Olympian Tool's Wire EDM Machining Process
The cutting-edge Wire EDM machines that we utilize in our custom fabrication facility works through an advanced metalworking process often called spark machining. Our wire EDM machines use a carefully fed wire charged with an electric current to generate precision sparks which remove excess material from the submerged working metal, ultimately machining the raw material into your custom finished product or prototype design.
Unlike most traditional cutting, grinding and machining methods, wire EDM works without exerting a strong abrasive force to the surface of the working metal. Furthermore, our wire EDM machines are engineered to work seamlessly with hard industrial materials, often removing the need for secondary grinding, additional CNC machining and thermal treatments.
Our Precision Wire EDM Services Benefit Your Production Through:
Streamlined close-tolerance wire EDM capabilities often eliminate the need for post-machining processes.
Our advanced wire EDM equipment is engineered to work with a complete range of metals and hard materials.
Little to no heat stress is created in the wire EDM process, yielding superior surface finishes and substantially reducing the risk for distortions.
Efficiently automated machining solutions for minimum production errors and reduced turnaround times.
Versatile wire EDM solutions for all of your precision tooling and manufacturing requirements – complex prototypes to full production runs.
From Wire EDM to CNC Machining, Olympian Tool Is Your One-Stop Precision Fabrication Shop
Contact our engineering experts to discuss how your products or prototypes could benefit from the state-of-the-art wire EDM services offered by Olympian Tool's precision fabrication center.